IGOR VLADIMIROVICH ELMANOVICH
CURRICULUM VITAE
<![if !vml]>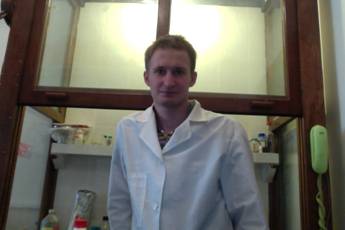 <![endif]>
 PERSONAL DETAILS:
Date of Birth: 1988
CONTACT INFORMATION:
Ph.D. student at A.N.Nesmeyanov Institute of Organoelement Compounds of Russian Academy of Sciences (INEOS RAS)
Phone: +79263028018
E-mail: elmanovich@polly.phys.msu.ru
EDUCATION:
At 2011 I graduated from Lomonosov Moscow State University, Faculty of Physics, Chair of Polymer and Crystal Physics, Diploma work in design and components of active layers for fuel cell electrodes (M. O. Gallyamov).
PUBLICATIONS:
1. T. E. Grigor'ev, E. E. Said-Galiev, A. Yu. Nikolaev, M. S. Kondratenko, I. V. Elmanovich, M. O. Gallyamov, and A. R. Khokhlov, Electrocatalysts for Fuel Cells Synthesized
in Supercritical Carbon Dioxide // Nanotechnologies in Russia. 2011, v.6, p. 311.
2. I. V. Elmanovich, A. V. Naumkin, M. O. Gallyamov, A. R. Khokhlov, Organometallic Pt precursor on graphite substrate: deposition from SC CO2, reduction and morphology transformation as revealed by SFM // J. Nanopart. Res. 2012, v. 14(3), p. 733.